Advertising at All-NetTools.Com
All Net Tools is one of the most visited sites containing network and security software. Alexa traffic rank of all-nettools.com is 38,973 (08/28/08):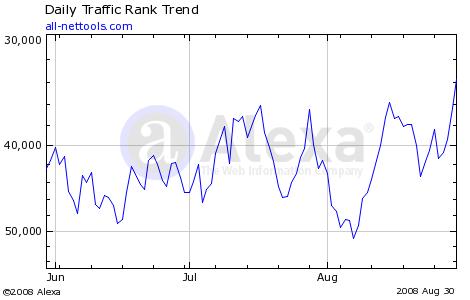 The more visitors come to our site the more users your programs get. Currently there are around 200 applications at all-nettools.com. To single out your ones, we offer the following options for cooperation:
1. Guaranteed adding your application to the site's catalog.
Every day tens, or even hundreds, of programs are submitted. The big numbers are caused by spam that is rejected. If you are sure that your program fits some category and meets other our requirements, we undertake to include it into our catalog (for at least 1 year).
Price: $100
2. Writing a review of your program.
all-nettools.com stands out against other similar sites for its concern with the visitors: we, as well as our partners, care about our customers. There are several professional writers in our team. They constantly examine software, pick out the very best programs and write reviews and tutorials that help ordinary users selecting the program that solves their problem. We offer this service on the paid basis. A link to the review will be shown on every description page of other software at least for 3 days, at least for 1 month on the main page. Besides, the review will always be available in the "Articles" section.

Example of a tutorial

Link on the main page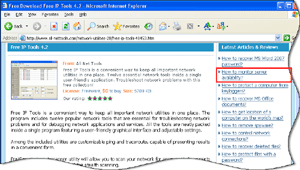 Link on a page with another program's description
Price: $100
3. Placing a link to your program on the main page.
Main page is one of the most important pages. Every area here is extremely valuable. We offer to place a link to your program with a short description and a screenshot.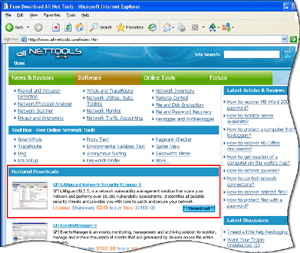 Price: $300/month
Notes
The above listed prices may change. The actual price depends on the current queue of advertisers, on the category and many other factors. The final price is agreed upon during a private conversation.
Links to your application lead to our site, download links are redirected by our scripts. If we are affiliates with you, you may not change your commission fee or cancel the agreement during the advertising campaign. Otherwise your program can be removed from our site.
We may reject any incoming offers or remove your program from the site during or after the advertising campaign if it violates our terms of submitting.
Payments are accepted by credit card, PayPal or v2v at Plimus, RegNow, ShareIt.
We are looking forward to a successful partnership! Please use the contact form.